VikingRedBaron`s Homepage
www.vikingsnowmobile.com

*
Viking Photo`s
*
Race Photo`s
*
Vintage Photo`s
*
Other Sleds
*
Events
*
Links
*
*
Work in Progress
*
ID your Viking
*
Guest Book
*
E-Mail Me
*
For Sale/Wanted
*
Dedication
*
Winnipeg/St.Paul
*
Home Brew
*
Past Quizlet Results
*
School WebRing
*
Jason`s Stories
*
Class of 1978
*
!!! New !!!
Viking Technical Information Section
!!! New !!!
Viking Prototypes


Welcome to the home of Viking Snowmobiles.

A little about me. My name is Steve Thompson, and I live in Moorhead, MN.
I was born and raised on a farm, just west of a little town called Twin Valley, Minnesota,
the birthplace of Viking Snowmobiles. I bought my first Viking right out of high
school. Viking had just gone out of buisness a short time before,(September 1975) so I got my
first sled real cheap. It was a 1973 Vigilante 340. The sled was fun to ride,
and nice to look at, as it was Royal Blue. Soon after I bought a Vagabond, for
a second sled to ride. The rest is history. As I now own 20+ of these fine looking machines.

I have created this Web Site to help preserve the history of the Viking Snowmobile.
It is designed to let you look at some photos of the Vikings in, Old Timers Rides,
Shows, and at Home. There are also pictures of some rare Race machines in the Race Photo`s.

The section to ID your Viking, should help you to identify the year and model of your Viking.








This picture was taken during the Winter of 2010-2011 while at the "Midnight Riders Old Timers Run" at Lake Park, MN.
This is a custom Viking I built the summer and fall of 2010, from over a dozen different brands of snowmobiles. I call this "The Green Hornet".
It is powered by a Kawasaki Invader 440 engine, Arctic Cat/Polaris drive system, and Polaris rear suspension and track.
Just to name a few parts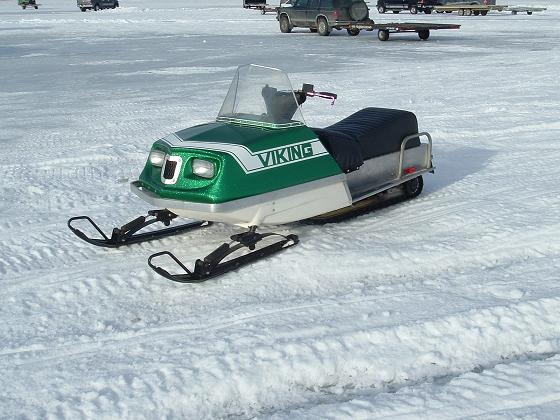 This Website was built and is maintained by Team Poor Boys Web Design.



© Team Poor Boys. 2013. All Rights Reserved.