Wanted / For Sale

*
Viking Photo`s
*
Race Photo`s
*
Vintage Photo`s
*
Other Sleds
*
Events
*
Links
*
*
Work in Progress
*
ID your Viking
*
Guest Book
*
E-Mail Me
*
For Sale/Wanted
*
* Bulletin Board*
Dedication
*
Winnipeg/St.Paul
*
Home Brew
*Classifieds*
*
Past Quizlet Results
*
School WebRing
*
*
Jason`s Stories
*

The items on this page are for sale.
For any of the items on this page you can
E-Mail
me any time.
VikingRedBaron@Juno.Com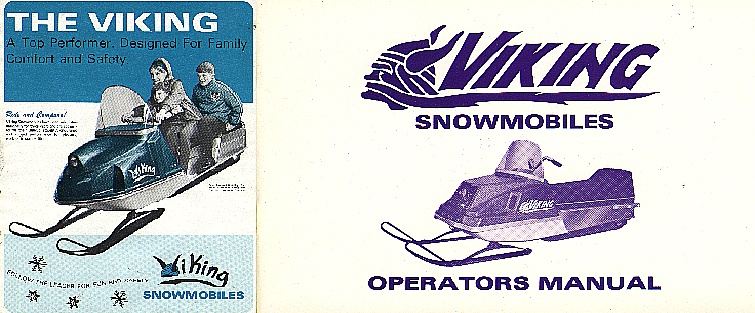 1970 Sales Literature / 1971 Viking Owners Manuals
The 1970 sales brochures are for all the models offered in 1970. They list all the options and all available features. They are 1 sheet 81/2 X 11 and colored.

The owners manuals cover the 1971 Vagabond, Voyager and Vanquisher. These are the original owners manuals that came with the sleds when you bought them. The manuals I have are brand new, not reproductions. I have quite a few of each of these items. I will sell them for $6.00 each.
Price includes shipping.

1983 Camaro / 1985 Buick
The 1983 Z-28 Camaro has a 305 V8 with an automatic transmission, Tilt steering, air conditioning, power rear hatch. This car has 2 new tires on the rear and 50% on the front. The car comes with a Bra which did not get on this picture. The car gets a strong 20 mpg on the highway.

The 1985 Buick Regal Limited. This car came with all the options, but the Tee Tops. It has a 307 Olds. V8 automatic transmission, power windows, power doorlocks. Tilt steering, cruise, air conditioning, power trunk release, 60/40 power seats, AM/FM Cassette, tires are fair, on Olds rims. This car gets 18-19 mpg on the highway.

Both cars will sell for $2000.00 each. As you can see they are very dependable cars, as these pictures were taken in Colorado.